Accident Repair Centre / Bodyshop
General Repairs, Specialist Bodywork & Accident Repair.

4 Great Reasons To Choose Us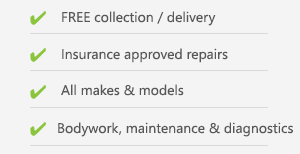 Special Offer
- 10% off fault cases.
10% off excess, contact us for more information, t&c's apply.

£30 Cashback
for referrals.
Refer a friend and earn upto £30.00 in free cash.
FREE Cost Assesment With All Repairs - We are happy to provide a free cost assesment with all repairs made to your vehicle. However, if you are making an insurance claim then your insurer will typically require a detailed damage assessment to be completed, using a specific computerised estimating system. In this case we will be able to liaise directly with your insurer and provide them with exactly the information that they require.
In this way we can quickly gain authorisation for your repair and get you back on the road as soon as possible. Upon commencement of repairs all damaged parts will be removed from your vehicle. In addition there will be some undamaged parts that will need to be removed to facilitate the necessary repairs. These parts will be carefully stored so that they can be refitted to the vehicle on completion of the repairs. Once it is dismantled we will check to see that no additional unseen damage has been incurred.

Insurance backed paintwork repairs are fully guaranteed for 5 years, all other paintwork repairs include our standard 3 year guarantee.

Stone Chip - Chips and marks to paintwork from flying stones and debris are unavoidable and expensive,in terms of devaluing your vehicle. However this damage can easily be rectified,if caught early enough, through our advanced SMART techniques at a fraction of the cost of a traditional body shop repair process.

Scratches - Scrapes and scratches to your vehicle's bodywork can drastically reduce its value, but these can also be simply and cheaply removed using SMART technology.

Damaged panels will be replaced where required but we will try to repair panels where possible using the latest welding equipment suitable for repairing high strength steel and aluminium panels. Our highly skilled panel technicians can often reshape panels avoiding the need for replacement, but still returning your car to its pre-accident condition. We have body-alignment jigs which can be used to straighten chassis damage if necessary, and ensure that the chassis is dimensionally accurate.

Bumper Scuffs - Scuffed and damaged plastic bumpers,mirror casings and coloured trim would normally have to be replaced. Our advanced SMART repairs allow instant, on the spot, remedial work without costly parts replacement.

Alloy Wheels - Impact or Kerb damage and Corrosion to Alloy Wheels can really detract from a car's appearance and value. We can quickly and cheaply repair and refurbish your wheels to a very high quality finish.

Interiors - Holes from mobile phone or other in-car accessories can be repaired to an almost 'as new' standard. Our SMART techniques can also provide near invisible repairs to upholstery damage, such as rips, tears or cigarette burns.
Customer service is our number one priority and we pride ourselves in providing a hands on, high quality, guaranteed service. It is this drive to be the best that has inspired our business to participate in the prestigous British bodyshop awards for the last three years running. We understand that leaving your vehicle to be repaired requires a great deal of trust in the company you choose, when they are dealing with such a vital aspect of most peoples lives and independance. Our approach is different to the usual repair centre, we will liase directly with the customer and your technician will keep you updated as a priorty whenever your vehicle needs repairs, this gives you complete peace of mind that you have chosen the right company to look after your vehicle in the way you would want it looked after.
If you have been involved in an accident call us now on 0207 790 5463.
We Are An Insurance Approved Repairer










Accident Repair: Our Bodyshop / Paintshop








CUSTOMER FEEDBACK
Read what our customers have to say about our Bigland Motors.
"Stunning repair, looks like new to me."
P Robinson, Stepney
"Great attention to detail, would highly recommend to anyone."
M Zullah, Whitechapel
"Always friendly, car has been problem free, Thank you. "
Anon, Poplar
If you would you like to leave feedback about our business, please click here.